News
April 2015
November 2014
2014 SEMA Show
Looking forward to another year of working with our clients both new and longstanding for the biggest car show event of the year. This is one of our favorite events of the year. Stay tuned for our updates as the event approaches.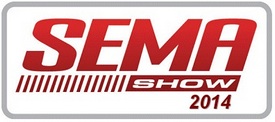 September 2014
Barrett-Jackson Classic Car Auction
The Detail Kings featured some of our work detailing this beautiful 1957 Corvette Convertible Resto-Mod along with this 1956 Ford F100 pickup for the 2014 Barrett-Jackson Car Auction held in September at the Mandalay Bay Events Center.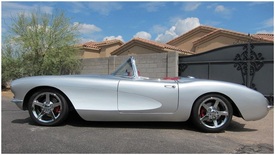 March 2014
CONEXPO
We get to show off our expertise in the detailing community with our versatility in being able to provide detailing services for any type of application. At the 2014 CONEXPO Show held at the Las Vegas Convention Center, our team was able to restore over 100 pieces of heavy construction equipment for various clients and make them all show ready in less than a week's time!
January 2014
Bonham's Motorcycle Auction
From one extreme to the other. The Detail Kings has the ability to undertake the largest tasks of detailing heavy construction equipment to the most intricate of work detailing over 200 custom and antique motorcycles as showcased in the annual Bonham's Motorcycle Auction held at Bally's Resort & Casino.
November 2013
2013 SEMA Show
The ability to cater to our out of town clientele is an essential part of our business due to the fact that Las Vegas is a prime destination for many Trade Shows and Conventions. We always look forward to seeing our friends from Bully Dog who have been loyal customers since our beginning. It's a big surprise for us when we finally get to see what new projects they have been working on all year.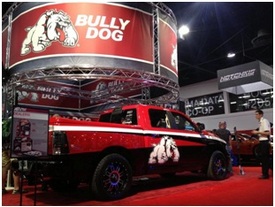 April 2013
2013 NAB Show
The Detail Kings make every effort to accommodate our out of town guests from expertly detailing their equipment for their event, making room reservations as well as arranging for show tickets. We offer "turnkey" service for our clients. Call us TODAY at (702) 285-8093 or Email us your event itinerary and we will take it from there.
April 2013
2013 Bridgestone Drive & Learn Event
We have to be continually innovative with our ability to cater to the needs of our clients as exhibited in the 2013 Bridgestone Drive & Learn Event held at the Las Vegas Motor Speedway where our staff had to be on hand both night and day. With their event featuring testing the performance aspects of different tires on different road conditions, the Detail Kings had to detail over 60 different vehicles several times a day in between road course changes.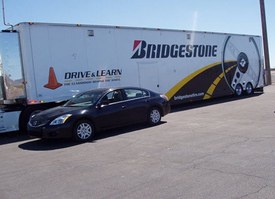 February 2013
2013 World of Concrete Show
Las Vegas is a favorite convention destination within the construction equipment industry. We provide detailing services several times a year for our worldwide clients. Bobcat and Doosan are on display here for the 2013 WOC Show at the Las Vegas Convention Center.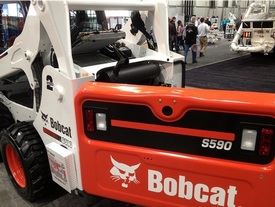 January 2013
Bonham's Motorcycle Auction
Our annual event where the Detail Kings get to showcase their intricate, delicate detailing expertise on a grand scale. With over 200 motorcycles of all varieties, it's another favorite for us each year. We get to prepare these beautiful machines for the auction block. Their success in fetching the highest possible price for the seller is entrusted in our hands. It must speak volumes that we continue to be the event detailer year after year.